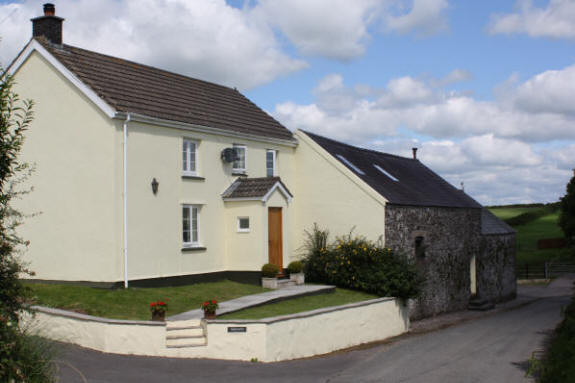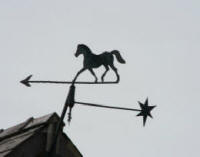 HENIARTH is situated in South West Wales, approximately eight miles from Carmarthen.
The farm is situated above the castle town of Kidwelly, settled in 1115, looking towards the Gower peninsula.
The National Botanic Garden of Wales, Dylan Thomas' boathouse at Laugharne and Pembrey Country Park are all close at hand for those not wanting to talk ponies; there is also a variety of good accommodation nearby.
Our policy at Heniarth is to limit the numbers that we can easily accommodate within our 26 acres of available grazing. The majority of the stock winter indoors in yards, with foaling closely supervised with the aid of CCTV if needed. Each foal is well handled, wormed and trimmed, with youngsters thought to make good ridden prospects being given the opportunity to grow on here until three years old, though generally seem to be snapped up before they reach that age! All of our show ponies are produced from home, including the ridden ones in the past, though lately we have been lucky enough to utilise the services of some capable individuals. With breeding both Sections A & B our numbers have to be strictly limited with eight foals being the maximum number foaled each season.
Some high points for the Heniarth Stud at the Royal Welsh Show:
1993 Section B Reserve Youngstock Champion – Cottrell Aur (Heniarth Stud, produced by Mark Tamplin) since exported to Germany.
1994 Section C Youngstock & Reserve Male Champion – Parvadean The Governor (Mr & Mrs A. Schockett U.S.A.)
1994 Section B Youngstock & Reserve Male Champion – Cottrell Faberge (Heniarth Stud, produced by Waxwing Stud)
1995 Section A Male Champion – Criccieth Arwr (Mr & Mrs E. Ll. Evans)
1996 Section A Youngstock Champion – Criccieth Marchog (Mr & Mrs E. Ll. Evans)
1998 Section B Reserve Male Champion – Eyarth Sama (Mr & Mrs R. Evans, Australia)
2000 Section A Reserve Female Champion – Sunwillow Yasmin (Heniarth Stud)
2000 Section B Reserve Female & Reserve Youngstock Champion – Eyarth Windflower (Heniarth Stud)
2002 Section B Overall Champion, Reserve Tom and Sprightly and Overall Cuddy Breeders Challenge Horse of the Year Show Champion - Eyarth Windflower (Heniarth Stud)
2003 Section B Overall Champion - Eyarth Windflower (Heniarth Stud)
2003 Reserve Champion Ridden Welsh Pony and Horse of the Year Show Qualifier - Heniarth Quip (Heniarth Stud)
2004 Reserve Female & Reserve Overall Champion Section B - Eyarth Windflower (Heniarth Stud)
2004 Youngstock & Reserve Male Champion Section B - Steehorst Kyro (Rhoson Stud)
2004 Top ridden Welsh Mountain Pony - Heniarth Quip (Heniarth Stud)
2005 Youngstock and Reserve Female Champion - Heniarth Yum Yum (Heniarth Stud)
2005 Reserve Male Champion - Heniarth Mr. Milligan (Ekbacken & Heniarth Studs)
2005 Ridden Welsh A & B Champion and Reserve Supreme Ridden Mountain & Moorland - Heniarth Mr. Milligan(Ekbacken & Heniarth Studs)
2006 Female Champion Section B - Eyarth Windflower (Heniarth Stud)
2006 Male Champion, Overall Champion Section B and Cuddy Supreme Horse of the Year Show qualifier - Rhoson Shem (Rhoson and Heniarth Studs)
2007 Ridden Welsh A & B Champion - Heniarth Coron (Cheshmere Stud)
2008 Ridden Mountain Pony Champion - Heniarth Quinnell (Vennebos Stud)
2010 Winter Fair Champion Section B and Reserve Supreme Champion exhibit - Rhoson Dorti (Heniarth Stud)
2012 Champion Section A, Reserve Tom & Sprightly, Reserve Supreme Led exhibit and Reserve Cuddy Horse of the Year Show champion - Heniarth Yum-Yum (Heniarth Stud)
2012 Winter Fair Reserve Champion Section A - Blanche Montana (Heniarth Stud)
2013 Reserve Female Champion Section A - Brynodyn Savannah (Brynodyn Stud)
2015 Overall Champion Section B and Reserve Tom & Sprightly Welsh Champion - Heniarth Wood-Wind (Heniarth Stud)
2015 Youngstock Champion Section A - Blanche Montana (Heniarth Stud)