Heniarth Quip | Heniarth Wood-Wind | Blanche Montana | Rhoson Shem | Tooravale Houston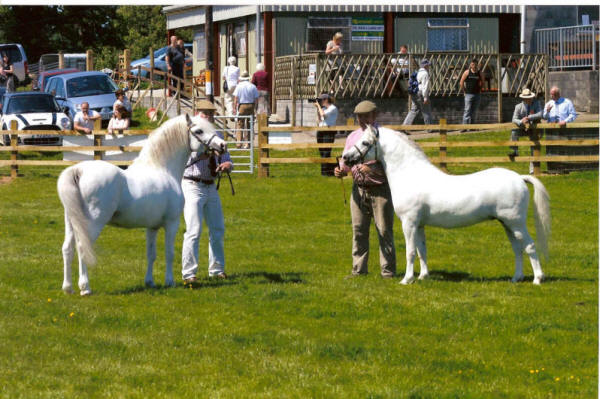 Brothers Heniarth Quinnell by Gwyn Rhosyn Frenin (left) and Heniarth Question by Roseisle Pandy Tudyr, both out of Sunwillow Quest by Coed Cock Salsbri
We have always endeavored to breed a type of pony that has the conformational ability to perform any task that is asked of it. Therefore any colts that are born that do not reach the illusive scale of "stallion potential" can, and do often go on to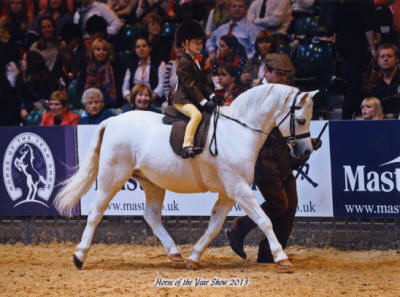 become ridden or driven ponies of the highest caliber. Over the years we have been selective in choosing stallions that not only meet our criteria, but on paper may, in time, offer something to the breed by virtue of their unique bloodlines; regularly avoiding the current fashion in order that our small stud may be able to offer something to the gene pool in the future. Oftentimes these have been young colts or stallions that have seen little use. Generally the stallions at both Rhoson and Heniarth are not at public stud to all and sundry, rather to the conscientious breeder who follows our values for the future. Routinely these stallions have been recognized by overseas breeders making their stock somewhat unique in the motherland. One of the first Mountain Pony colts we used was Dukes Hill Magnum, therefore concentrating the blood of Sunwillow Bernina. Heniarth Quip was his first foal born who went on to win the Royal Welsh Show the following year and Magnum has continued on to become an established sire. We were lucky enough to acquire Coed Coch Rhion in his later years from the Western Isles of Scotland. Sadly his immediate effect was minimal but his influence through his sons Gwyn Rhosyn Geraint and Gwyn Rhosyn Frenin has been immeasurable, Geraint being the sire of Heniarth Quail and Frenin the sire of Heniarth Yum Yum, (who in turn is the dam of the exciting young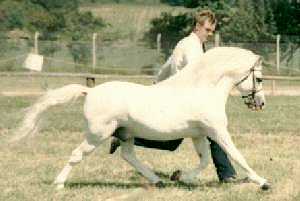 stallion Heniarth Beaudacious) and Heniarth Quinnell. Quinnell flies the flag for us at the highest level through his own successes under saddle but also those of his progeny. On return from our first trip to Australia in 1995 we were so impressed by the type, quality and uniformity of Waxwing Herrod that we were honoured to have the opportunity of leasing his son Roseisle Pandy Tudyr from Scotland, one of only five of his UK progeny before Herrods exportation. Pandy Tudyr remained here for the greater part of his life leaving us exactly what we had hoped he would, amongst others Heniarth Question, the last foal of Sunwillow Quest and the sire of Heniarth Yours Faithfully, the loast foal of Sunwillow Yasmin. We have tried not to be blinkered in our attempts to bring in various traits. Pendock Buttonhole, son of Twyford Juggler and grandson of Craven Ballerina, one of Richards original mares was tried. As was Haverford Flight, a son of Springbourne Halwyn and Cascob Silver Ghost. Therefore it is ironic that twenty years on both Silver Ghost and Buttonhole feature in the young colts at Heniarth today.
In recent years Meirion had added both Cottrell Faberge and Cottrell Aur to his parents Rhoson Stud bringing in the first line of Keston Royal Occasion to mix with Downland Rembrandt, now in America. In an attempt to create what the market was telling us it was looking for in the Section B we looked to re-patriate Hollands leading sire Eyarth Harlequin.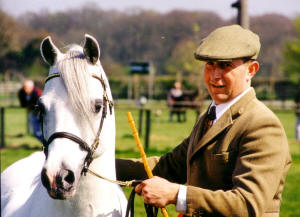 Like Coed Coch Rhion, we had left it too long to be of any immediate effect so we imported his son Steehorst Freelance and then his grandson Steehorst Kyro to bring that type and character into the Rhoson ponies and what we were creating at Heniarth. Using Eyarth Ramah, (now in Finland), and the chance to use Eyarth Sama prior to his shipment to Australia suggested that we were on the right lines with the latter siring Rhoson Shem, our Royal Welsh Champion who has spent four seasons at Eyarth therefore introducing Downland Rembrandt back on their Weston Twiggy base. Eyarth has now purchased the exciting young stallion Rhoson Adonis who combines Kyro and Sama. Using Lemonshill Top Note on Eyarth Windflower was a instinctive gamble as Richard had awarded him his first championship as a foal and therefore followed his career with great interest. A colt of the quality to put back on the Rhoson mares, especially those with Weston Twiggy roots, was hoped for and indeed Heniarth Wood-Wind has exceeded any expectations we may have had and furthermore is crossing well on exactly the females we hoped he would. On that same Australian trip that we first noticed Waxwing Herrod we admired the stock from Weston Mary Ann and her son Weston Manhattan, little ever realizing that one day we would be able to incorporate that into our ponies. So, with the addition of Weston Choice and the Coed Coch Berwynfa mare Belvoir Thalia, we welcome Tooravale Houston to these shores in the hope he will be able to cement the type of pony we aim to be recognised for.
Photos from the top: Supreme Champion, four time HOYS finalist, Lead Rein Heniarth Quasar; Coed Coch Rhion; Eyarth Harlequin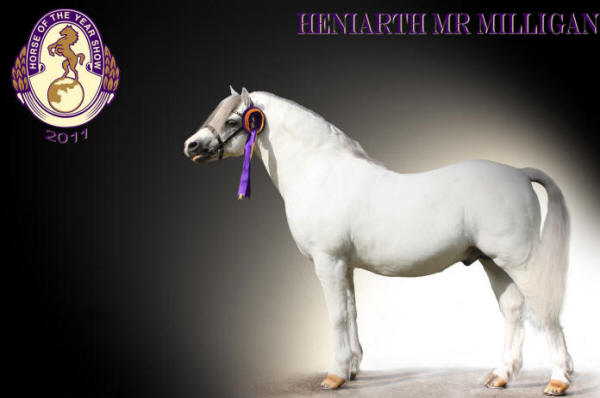 Heniarth Mr Milligan out of Sunwillow Mutters with his father, Roseisle Pandy Tudyr (below)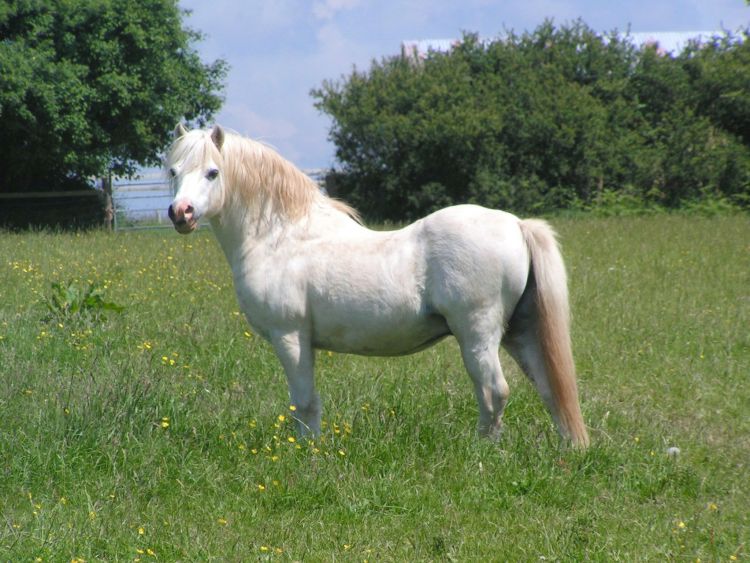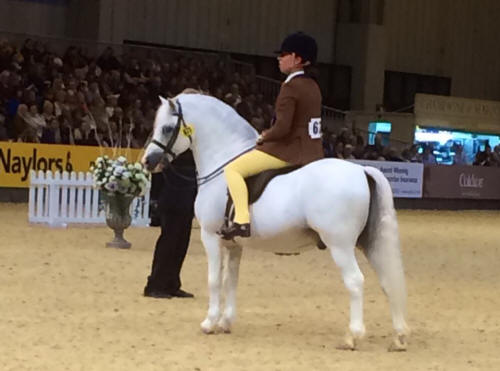 Heniarth Quinnell (Gwyn Rhosyn Frenin x Sunwillow Quest by Coed Coch Salsbri)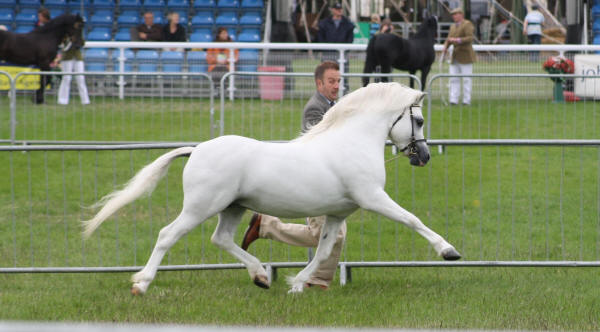 Heniarth Yarra Glen (Nerwyn Cadno x Sunwillow Yasmin by Pendock Legend)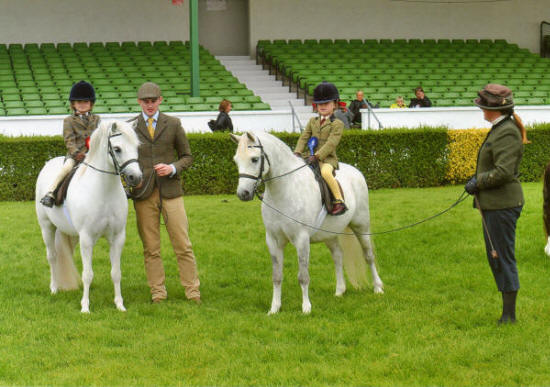 Heniarth Quasar (Roseisle Pandy Tudyr x Sunwillow Quest) left, and Heniarth Cockatoo (Cascob Silver Ghost x Heniarth Quail), top ridden geldings